News & Updates
Our five nights at Guilin Ming Garden were great as well! It is certainly our favorite place in China. The apartment is remodeled, extremely clean and has a great view; having internet access is a nice touch and there is plenty of room for our entire family. After a long day of fun, it was relaxing to come home to delicious home cooked meals prepared by our nanny Mrs Huang.She made us feel right at home with her traditional Cantonese home cooked dinners: her normal dinner consist of soup, two meat dishes and two vegetable dishes; very much like the meals our Cantonese parents made for us when we were younger and the meals had brought back fond memories.
-Helen Lee
Lotus - A trusted name in family travel
Guilin Photo Gallery
Heilongjiang Province
Heilongjiang Province is the most northeastern part of China and its capital is the famous city of Harbin. It is famous for its unique ice and snow sculpture and is often called the "Ice City ", attracting thousands of visitors from China and abroad. When Heilongjiang is viewed on a map, it looks like the shape of a swan, with Harbin as the eye.
Heilongjiang is a large province covering approximately 20,500 square miles and has a distinctive food culture, reflecting Harbins' history and special geographic position.
In recent years there are aggressive plans to build more than 2.3 million kilometers of roads and 60 rail lines to stretch from Harbin, to Dalian in Liaoning province. This proposed railway is expected to transport 37million passengers each year.

Climate
This region produces bountiful harvests of corn and soybean even though it has a short growing season of only four months. It has long daylight hours and the rich soil. In winter, Heilongjiang is extremely cold and the temperature drops below zero almost every day. The rivers get below freezing in October and snow covers the ground until May. People often wear coats and hats at mealtimes because hot water and heating oil are in short supply. The summers offer cool weather is a plus for people who wish to make travel to a cooler location and so Harbin is a popular summer resort.
Economy:

Northeast China has one of the highest unemployment rates in the country and many of those employed may still work for inefficient state run enterprises. In recent years, the region has started to attract some foreign investments, but overall it is economically behind its southern counterpart provinces.

Capital City:

In the early 20th century, Harbin was the first stop in C hina for trains coming from Europe. As a result, Paris fashions and European dances were introduced to Harbin before they even reached Shanghai. In the 1920 and 1930's many Russian aristocrats fleeing the communist regime settled there. It is a crossroads of Chinese, Russian and Western cultures. Harbin has a unique city seascape with the majestic St. Sofia Orthodox Church, a landmark of Russian architecture and the Dragon Tower, which embodies Chinese wisdom.
Harbin is strategically located in the region, serving as a link of cultural, economic, educational life. With the Russians building the end point of the Middle East Railway in Harbin, this link allowed more than 160,000 foreigners from 33 countries to migrate here and it eventually became an international port .
Harbin is now home to 9.1 million people and is located on the Song Hua River. The key architecture is the Russian St. Sofia Church with gold crosses and green onion domes.
In recent years Harbin has become the destination of Russian traders who purchase inexpensive Chinese- produced consumer goods and sell them in Russia.

Must See Spots: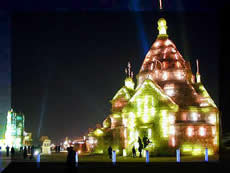 In winter one can pay to watch a Russian ice swimming troupe swim in the ice-covered river. This typically happens in conjunction with the internationally famous Ice and Snow Sculpture Festival. This event attracts millions of visitors each year and boasts over 100,000 square meters of snow and ice. The festival started in 1999 to call in the new millennium. It now hosts millions of Chinese and foreign visitors from home and abroad.
Any family wishing to combine a heritage trip with a trip to see the famous ice festival can contact us at info@lotustours.net to get started for a December 2010 trip to this region. See Harbin Heritage Tour to review the detailed itinerary for our December trip!