News & Updates
Our five nights at Guilin Ming Garden were great as well! It is certainly our favorite place in China. The apartment is remodeled, extremely clean and has a great view; having internet access is a nice touch and there is plenty of room for our entire family. After a long day of fun, it was relaxing to come home to delicious home cooked meals prepared by our nanny Mrs Huang.She made us feel right at home with her traditional Cantonese home cooked dinners: her normal dinner consist of soup, two meat dishes and two vegetable dishes; very much like the meals our Cantonese parents made for us when we were younger and the meals had brought back fond memories.
-Helen Lee
Lotus - A trusted name in family travel
Guilin Photo Gallery
White Swan Closure Update Interview
Editors' Note I sat down recently and visited with Lea Xu regarding the status of the White Swan H otel and its rumored closure. Below is an excerpt of that interview.
Q: Rumors have floated for a year or more regarding the White Swan closing down to remodel. What is the status of that and what are the actual facts?
Lea: The White Swan deputy general manager, Mr. Xie, Louie and I met recently and discussed renovations. They are handling the project in a rather democratic approach to keep different groups apprised and informed. Several months earlier they unveiled the remodeling plans, drawings and architectural model. It was quite informative, since it showed how dramatically the plans will change the appearance of the hotel. After remodeling, the hotel entrance will be located on the side where that faces the Pearl River. The White Swan has been one of the world's leading hotels for a long time. It is a good time for them to pause and bring in new features and updated technology
Q: There have been planned closures earlier and then those have been tabled. Why the uncertainties about their closure date?
Lea: As I mentioned, they are working rather democratically through meeting with people affected by the changes. They have to apply for a permit to the Chinese government to proceed with the remolding job. Guangzhou is hosting the 16th Asian Games, with the White Swan Hotel being one of the sponsoring hotels. All these factors are impacting their timing.
Q: Wow, will it ever happen then?

Lea: Oh, yes, it will happen and I have seen the new plans. It is beautiful and has a well laid out plan for remodeling . I think many families will enjoy the updates such as much bigger room, --- yes-- the old hard bed will be gone.
The White Swan is a historic building – a symbol of China's 30 years economic reform. It was donated to Guangdong Province government by a well-known Chinese businessman Mr. Huo YingDong. The leaders have to apply for a permit to start remodeling . They have previously applied and because of the timing of some large events, such as the Shanghai World Expo and the Asian Games, the plans have been delayed. At this point, it is known that it will stay open through the end of this year and likely partially into 2011, though the final date is still being finalized.
Q: What about some of our favorite features in the renovation? Do the swimming pools remain or the indoor waterfall ?

Lea: The waterfall remains, but not much else inside will be recognizable for families. The renovations inside will include all new furniture and furnishings. There will be more suites added to the hotel; plus updating the technology.

Q: Well, the big question remains, then. What is the actual timing going to be for the closing of the White Swan to do these renovations?
Lea: Oh, yes, we want to know as well. Right now the start date has not been finalized, although it appears that it may well happen during 2011. They expect to be closed for one year in order to complete the renovations. A couple of years ago they had planned to complete the renovations while remaining open for business. Now, with these new remodeling plans in place, I can see why they must close for a period of time in order to accomplish these big changes.
Q: So, where will many agencies arrange for the adoptive families to stay during the White Swan closure?
Lea: Lotus already has made special arrangements with some other five star hotels, which we use for many families.We try to use the ones have good location, have convenient access to parks, shops and US consulate.
Q: What prompted Lotus to plan a "Red Couch Reunion Tour " for December?
Lea: We wanted to arrange a tour prior to the renovations where we knew adoptive families could come and enjoy a special program and reminisce before the changes start. There are several groups involved in providing donations for the silent auction that will be part of the festivities. There will definitely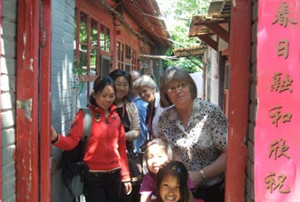 be several unique items on hand. I think the program will be one that families will always remember and the kids will too. It will be memorable, unique and meaningful.
Q: Well, will you be on hand for families who participate in this tour?
Lea: Yes, absolutely, I am helping coordinate the special program during the evening of festivities at the White Swan. It should be a wonderful time and I hope to see and talk with all of our visiting families at that time. I'm looking forward to it!