News & Updates
Lotus - A trusted name in family travel
Shepherd's Field and the Philip Hayden Foundation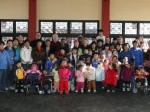 The Philip Hayden Foundation was founded by adoptive parents Tim and Pam Baker and focuses on special needs children and often takes in children that other orphanages are not fully equipped to handle. Their primary goals are to provide key services of foster care, medical intervention and facilitate placement of their children into permanent homes, though they are not themselves an adoption agency. As such, they focus on creating "villages" in mainland China where they are equipped to take in at risk and special needs orphans.


In Langfang Children's Village, which is approximately 1 hour outside of Beijing, there are five foster homes and a preschool. Ninety-five percent of the kids have a physical disability or serious medical condition which often led to their abandonment.

There is a vision to expand the Langfang Children's Village to include with an all-purpose facility that would have foster homes plus an on-site clinic, school, & recreation building. The land, donated by the government of the Tianjin Economic Development Zone, has the "Inn of Eight Happinesses", which offers housing for volunteers working there. It also has two homes, the clinic, and a
main office. Located just ten minutes away from Langfang Children's Village, Shepherd's Field Children's Village welcomed its first children in August 2006 and was at capacity by February 2007. They have plans to add three additional homes, a manufacturing building, and a recreational building. Once finished, it will be the largest facility of its type in all of mainland China. Philip Hayden welcomes adoptive families to volunteer and one may stay onsite for volunteer assignments. Click to view lodging at: http://www.chinaorphans.org/inn.pdf. Louie Yi of Lotus Travel has met with Philip Hayden leaders and will easily arrange families to volunteer in combination with any of its tour schedules. Click Volunteer Trips for more details.

If you would like to learn more background about the Philip Hayden Foundation, click here: http://www.chinaorphans.org/aboutus.php to learn how and why the organization began.