Kung Fu & Volunteer Tour (teens & families)
If you've been to China once before and have seen the major sites - then come back and "give back". It's time to expand your experiences in China. Teens - this itinerary is a great fit for you! Visit your birth country; take Shaolin Kung Fu lessons and volunteer your time at a small SWI that welcomes visitors. You can have a chance to really get acquainted with people as you contribute.

Start this trip in Shanghai - you may seem like you're traveling between two worlds, as you experience historic Shanghai; then view the sights from the 100th floor of the Shanghai World Financial Center. Next you can travel a short distance and explore the wonders of the ancient water city of Wuzhen. You may feel as though you have stepped back in time more than 2000 years, as you walk stone streets of this ancient city, or take a boat ride in the city's canals. Explore the lovely and famous city of Hangzhou with its famous gardens and West Lake; then plan your family's path as you may choose to extend your time and visit your child's hometown city and/or choose a gateway city for departure back to N. America.
Tour Overview
Tour Code: LY-VH14-06-07
Trip Duration: 12 days/10 nights
Shanghai, Wuzhen, Hangzhou, Luoning, Dengfeng,Luoyang
Departure Dates:
Anytime
Day 1 : Friday North America/Shanghai
Leave your home city for Shanghai today.
Day 2 : Saturday Shanghai
Arrive at the Shanghai Pudong International Airport. Your private English-speaking guide and driver will take you to your hotel. Soak in your child's birth country while you adjust to your new time zone and surroundings.
Day 3 : Sunday Shanghai
Begin your adventure with a relaxing walk along the Bund near the Huang Pu River. Then visit the Yu Yuan Garden and enjoy its intricately designed pathways, pavilions, koi stocked pools and quiet courtyards; then pass by the shops and restaurants in YuYuan Bazaar on your way to lunch. In the afternoon, visit the Jade Buddha (Yufo) Temple. As you enter the temple grounds, you might hear prayers of the monks and glimpse the smoke of incense curling toward the sky. You will step into a different world when you visit the Shanghai World Financial Center where you will take the elevator to its 100th floor to enjoy the bird's eye view of Shanghai.
Day 4 : Monday Shanghai/Wuzhen
Visit the Shanghai Museum this morning. After the included Chinese lunch, you will be transferred to Wuzhen water town by a private van. Tonight you will stay at Wuzhen Guest House, where you will enjoy traditional architecture with modern amenities. You can feel like you've stepped back in time as you spend time in this well preserved ancient water city.
Day 5 : Tuesday Wuzhen
Enjoy your exploration of this peaceful water city that dates back more than 2000 years, with architecture from the Qing Dynasty, reflecting traditional lifestyle. You will enjoy the many charming canals, stone bridges, stone wall, colonnades and ancient streets as you explore this city.
Day 6 : Wednesday Wuzhen/Hangzhou
This morning you will be transferred to Hangzhou by a private van. You will visit the West Lake (including the Island on the lake) and Lingyin Temple this afternoon. West Lake is famous for its strangely shaped peaks, serene forests, dense foliage and beautiful blossoms among lovely architectural treasures.
Day 7 : Thursday Hangzhou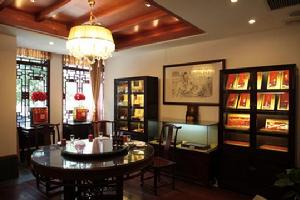 You will visit the Hu Qingyu Hall Chinese Traditional Herbal Medicine Museum, which is the former residence of Hu Xueyan. This residence was created by the most legendary "rags to riches"entrepreneur of 18th century China. As you visit the medicine museum, you will be amazed to see the breadth and variety of medicinal tools and the vast accompaniment of items to assist one in staying healthy.
Day 8 : Friday Hangzhou/Zhengzhou/Luoning
You will be transferred to the Hangzhou Airport for your flight to Zhengzhou. Hangzhou/Zhengzhou 3U8953 (8:25A/10:00A) (E-tickets issued by our China office) Meet your local English-speaking tour guide and private van driver at the Zhengzhou Airport exit for transfer to Luoning by a private van.
Day 9 : Saturday Luoning
After breakfast, you will start a full day volunteer work with simple lunch included at the Luoning Children Welfare House. The volunteer work includes house painting, house cleaning, teaching children English, or and playing with children living there.
Day 10 : Sunday Luoning
After breakfast, you will start another full day volunteer work with simple lunch included at the Luoning Children Welfare House. The volunteer work includes house painting, house cleaning, teaching children English, or playing with children living there. As you depart, you will feel you made a new friend with Director Pei and others at Luoning.
Day 11 : Monday Luoning/Dengfeng
After breakfast, you will be travel to Dengfeng to visit the Shaolin Temple which is considered the cradle of Chinese Buddhism. You will also have a chance to visit Pagoda Forest, with its concentration of ancient architecture, calligraphy, sculpture. It's a great place to gain insight into the culture and art in ancient China. You will also enjoy a Shaolin martial arts demonstration, which is specific to this region of the country.
Day 12 : Tuesday Dengfeng/Luoyang
This morning, you will learn Chinese Kung Fu - Shaolin martial arts in the birthplace of Shaolin Kung Fu. (-surely one for the scrapbook!) After the included Chinese lunch, you will be transferred to Luoyang by a private van. Luoyang, is considered one of the four great ancient capitals of China.
Day 13 : Wednesday Luoyang/Zhengzhou
This morning, you will visit the Longmen Grottos which is one of the finest examples of Chinese Buddhist art in the world, with thousands of statues carved into caves, excavated from the area's limestone caverns. This World Heritage Site contains one of the largest and most impressive collections of Chinese art with its treasury of carvings and inscriptions. After lunch, you will be transferred to Zhengzhou by a private van.
Day 14 : Thursday Zhengzhou/Next Destination City
After your breakfast at hotel, you will be transferred to the Zhengzhou Airport Train Station for traveling to the capital city of your designated province for an orphanage visit. A Lotus Travel guide will sensitively and carefully assist your family as you embark on this most meaningful portion of your return trip. On this initial day of the city visit, stroll around the area and absorb the city and locale. Please give us your traveling information including orphanage city and your preferred international gateway city (Guangzhou, Shanghai, Hong Kong, Beijing, etc.). We will create remainder of the trip as a private family tour. You may choose timing for your visit to the orphanage, your child's hometown city visit and more. This customized portion of the trip is determined according to your specifications and is not included in the base tour cost.
REMARKS:
B = Breakfast L = Chinese Lunch D = Chinese Dinner
CA= Air China CZ=China Southern Airline MU=China Eastern Airlines
Valid: Apr 01, 2018 - Mar 31, 2019
| | | | | |
| --- | --- | --- | --- | --- |
| | 2-5 Persons | 6-9 Persons | 10 Persons | Hotel Single Supplement |
| Standard Class | $2410.00 | $1970.00 | $1820.00 | $680.00 |
Note: child price is 80% of adult price.
Inclusions
Private transfer of Hangzhou/Wuzhen/Hangzhou & Zhengzhou/Luoning/Luoyang/Dengfeng/Zhengzhou;
Airfare of Hangzhou/Zhengzhou;
Bullet train fare of Shanghai/Hangzhou;
Airport/hotel/airport (or train station) transfer as listed on itinerary.
All listed sightseeing and tour programs with private English-speaking tour guide and private van or bus with driver.
Hotels and meals as stipulated on itinerary.
All prices are quoted in US Dollars and are subject to change without notice. Please check at time of booking.
All prices are quoted per person based on two people sharing a room (double occupancy). Single supplement applies for single travelers.
Exclusions
N. America/China/N. America international airfare. Please contact us for discount international airfare starting from your city.
Passport and/or China Visa Fees
Some meals
Tips to guides and drivers
Expenses of a personal nature
Orphanage visit filing fee
Extending trip after Day 14 to orphanage cities or other destination cities which can be arranged with extra cost by Lotus Travel.
Note: Customer Commitment - Each Lotus agent is committed to respond to each email with an acknowledgement of receipt within 24 hours. If you do not receive email acknowledgement within 1 business day, please check your spam box for our agents'response e-mail or send your notice to
iris@lotustours.net
or call 1-800-956-8873.
To review full listing of terms and conditions, refer to:
http://www.lotustours.net/info/terms.shtml