Beijing Sihe (Courtyard) Hotel
Beijing SiHe Courtyard Hotel is the former residence of famous Chinese artist Mr. Mei Lan Fang and is within 10 minutes walking distance from WangFuJing, the travel and commercial center of Beijing. Si He is designed based on original Chinese historical construction Si He Yuan, which is used to be the home of Chinese ancient imperial royalty. It is the only one hotel in Beijing which was built in the beginning period of Qing Dynasty. The spacious guest rooms share the beautiful inner and outer courtyard and patio with each other. They are decorated with antique furniture, carved with dragon and phoenix, the symbol of Chinese ancient nobility and are representative of nature and elegance. For your convenience, this idyllic residence is furnished with most modern facilities to bring you luxury and comfort.
As the major architectural form of residence of Beijing inhabitants for generations, Si He Yuan (quadrangles) of Beijing has been well-known around the world.
Si He Yuan is kind of the typical and traditional Chinese construction in China , unique and special. And different from the south China's construction's style, Si He Yuan have very spacious courtyard and all the rooms around the courtyard are connect with each other by the beautiful corridors, all doors and windows are facing to the courtyard so that there is the sufficient day lighting and ventilating in every room. Peaceful and private, the owner could have their own trees and flowers planted, and have birds and fish bred, as well as scenery made. Si He Yuan is not only one of a kind residence, but also the rare relic in the history of China.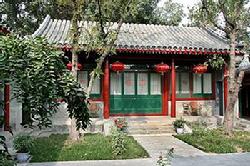 Hotel Overview
Star: Budget Hotel
Type: Holiday/Tourist
Opened:
Swimming Pool: n/a
Total rooms: 18
Address: No. 5 DengCao HuTong DongSi South Street DongCheng District, Beijing
Services
Laundry Service, Travel Desk, Travel Info, Ticket Booking, Free Newspaper, Luggage Storage, Car /Bike Service
Hotel dining
Chinese cuisine
Optional
Extra Bed: $23 Breakfast: $15
Credit cards accepted by hotel
Master Card, Visa Card, American Express Card