Our five nights at Guilin Ming Garden were great as well! It is certainly our favorite place in China. The apartment is remodeled, extremely clean and has a great view; having internet access is a nice touch and there is plenty of room for our entire family. After a long day of fun, it was relaxing to come home to delicious home cooked meals prepared by our nanny Mrs Huang.She made us feel right at home with her traditional Cantonese home cooked dinners: her normal dinner consist of soup, two meat dishes and two vegetable dishes; very much like the meals our Cantonese parents made for us when we were younger and the meals had brought back fond memories.
-Helen Lee
Paradise Found: Yunnan and Shangri-La

Explore this exquisite province, traveling deep into Yunnan which has both natural beauty and an amazing array of ethnically diverse cultures. It's a great place to visit any time of year with the winters being mild, with lows rarely dropping below freezing and sunny winter days are often that perfect temperature where you can wear a coat, or not, and still be comfortable. There is a well-known proverb in Yunnan, which says "the mountains are high and the emperor is far away," which is a way of explaining why people here have a much more relaxed way of viewing politics and official policies. You can take in the beauty of Yunnan as you travel. As you explore the trails along Tiger Leaping Gorge, you can realize it as a dream come true for hikers and bikers. You also get to explore the area that is considered "Shangri-La" in Milton's Paradise Lost epic. This trip has it all for you to really dig into authentic China. Email louie@lotustours.net to inquire today.

Tour Overview
Tour Code: LY-HA20-03-P
Trip Duration: 10 days/9 nights
Kunming-Dali-Shaxi-Lijiang-Shangri-La
Departure Dates:
Please contact one of our experienced travel advisors for departure dates
Day 1 : KUNMING arrival
Arrival in Kunming by air (your own tickets, flight details to be advised).
After airport arrival, meet your guide and be transferred to hotel where you can relax and settle in to explore the rich minority cultural connections within this province. Kunming serves as the capital of Yunnan; it is historically and culturally renowned throughout China as the most diverse province within the country. With an annual average temperature around 65 degrees Fahrenheit, it is well known as the "City of Eternal Spring". You will relish your time in this center of perfect weather during any season. Dinner is at leisure of your choosing, and/or local guide recommendation. This is an opportunity to explore some local cuisine. Overnight in Kunming, 02 nights
Day 2 : KUNMING
Breakfast at hotel.
Today, we take an excursion to visit the Stone Forest.
An extremely rare geological phenomenon dating back to 270 million years ago, the
Stone Forest
is an expanse of karst limestone pillars in fantastic shapes that resemble a forest and can be viewed from a distance roughly 50 miles away. The Stone Forest is also home to the Sani tribe, a branch of the diverse and scattered Yi minority renowned for their diligence, embroidery and dancing. Return to Kunming and you will have a chance to visit the Yuan Tong Temple, which is situated by the Green Lake, which offers idyllic setting for families and relaxing in the park there. You can also appreciate the
Yuan Tong Temple
and its renown as the biggest Buddhist complex in Kunming and its history that traces back to the Tang Dynasty over 1200 years ago. For today's meal you will enjoy lunch en route at local Chinese restaurant and the splendid dinner meal features Yunnan cuisine (mushroom hot pot) at local Chinese restaurant.
Day 3 : KUNMING-DALI
Enjoy your choice of Western or Chinese breakfast at hotel before going to the Kunming Railway Station for bullet train Kunming-Dali (about 2 hours, 2nd class seats). Dali is home to Bai minority and has ancient roots as far back as 1300 years ago when it was the capital of the Nanzhao and Dali Kingdoms at that time. This historical city stands against the Cangshan Mountains in the west and adjoining the Erhai Lake in the east and is embraced by undulating hills around it. Upon arrival meet your guide at Dali Railway Station and proceed to the shore of the Erhai Lake, the
village of Caicun
. From there enjoy a boat ride and cruise on the lake (about 45 minutes one way) to
Tian Jing Pavilion
. Continue to visit the Three Pagodas, which resembles a tripod and is a recognized symbol throughout China. Your lunch will be at a local Chinese restaurant. For the remainder of the afternoon, you will have a guided stroll and simply take in the sights and sounds of the old town of Dali while you absorb the local culture in the ancient streets. The
old town
of weathered gray granite stands on a long, narrow rice plain between the Cangshan Mountains and the Erhai Lake, a natural configuration that seems specially designed for a good, bountiful life. The format of the old town of Dali is like a chessboard with four gates guarding in the directions of east, south, west and north. Tonight's dinner is at your leisure and you may wish to ask the guide or other locals for excellent recommendations or enjoy a Western meal at the hotel.
Overnight in Dali, 01 night
Day 4 : DALI-SHAXI (2200 meters)
Breakfast at hotel and then visit the Bai minority village Xuzhou. This village has a more mixed population and cosmopolitan background. It grew and flourished in the Ming Dynasty (1368-1644) along with the fortunes of Dali's renowned tea merchants that traded to Tibet.
Family Yang's courtyard
is a good example of traditional Bai houses. Here, we will also enjoy
Three-coursed Tea
accompanied with folk song and dance performance, a ceremony of the Bai people. Then, we will take an overland drive of 2 hours to the Shibaoshan Mountains (also known as Stone Treasure Mountains) where one can visit the
Baoxiang Temple
that is built along a sheer cliff, and the
Stone Bell Temple
.
Shibaoshan
is hidden in a remote mountain region in Jianchuang County. Apart from fine depictions of Buddhist deities and disciples, the grottoes at Stone Bell Temple represent life within the Nanzhao Kingdom (748-902) and are made entirely of carvings, with no frescoes. The artistic accomplishment of Shibaoshan grottoes are regarded by scholars as the best in all of South China. From a well paved trail behind the Stone Bell Temple, we will
trek downhill
, along the Shadeng Valley,
to the Sideng Village
of Shaxi Township. The hike is about 1.5 hour and we may see quite a few grottoes along the trail.
Sideng village
, is positioned in the neighborhood of Shibaoshan, which was a prosperous town on the old China Silk Road that connecting China with South Asia, Southeast Asia and West Asia. Traditional Bai houses line up to create a chessboard pattern in the village. The century old Xingjian Buddhist Temple and wooden theater is worth a visit. Today's lunch is included at a local Chinese restaurant and dinner is on your own, of local recommendations or your own choosing.
Overnight at Shaxi, 01 night
Day 5 : SHAXI-LIJIANG (2500 meters)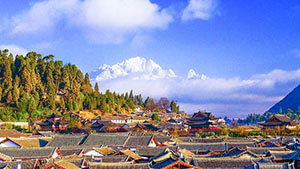 Wake and have a lovely breakfast at hotel before you embark on the day's explorations. In the morning, take a
guided stroll in Sideng Village
to the market square, the Xingjian Buddhist T temple, and old residences of former caravan leaders. Then take an overland drive of 2 hours in order to arrive at Lijiang. A gathering place of rugged mountain people with the Naxi forming the majority,
Lijiang
is a small mountain town of stone and tile, laced with swift canals, which has been recently listed as an UNESCO world monument. Take a guided stroll in the old town, where you will climb up to the Lion Hill to visit the
Wangu Pavilion
and bird-eye view of the old town. Ascending the Pavilion, you may take fine pictures of the old town quarter.
Old town
of Lijiang is a big area with its center, or Si Fang Jie (Square Street) in the form of an official ink stone, hence its name Dayan (ink stone) Town. It enjoys a long history of over 800 years and unlike most of the old towns in China, there are no city walls due to a superstitious belief of the local ruler whose family name is Mu (tree), when encircled by walls, would be Kun (besieged). Wooden structures, mountains, small rivers and lanes integrate harmoniously in this mountain town.
Visit also to the
Black Dragon Pond
with the Wufeng Temple (Five Phoenix Pavilion) and
Dongba Cultural Museum
. The Pond provides you an opportunity to take some wonderful pictures of the crystal-clear pond with backdrop of snow mountains in a distance. Lunch will be provided en route at a local Chinese restaurant. Dinner at leisure – on your own as you wish.
Overnight in Lijiang, 02 nights
Day 6 :LIJIANG
Breakfast at hotel. We will take a first visit of the old town to the
Zhong Yi market
, where we may see vegetables freshly harvested from fields and quite a selection of copperware. Then we will, drive out to visit the
Yak Meadow of the Jade Dragon Snow Mountains.
Take chairlift (roundtrip) ride up with superb views over the mountains and valleys. Good weather permitting, you will be able to see the much-famed snow-clad thirteen peaks. On the way back to Lijiang, visit the Naxi minority village Yuzu and Baisha.
Yuzu
is a simple village of Naxi minority with the former residence of Dr. Joseph Rock. Dr. Rock, an Austro-American botanist who lived here during the 1920's and is remembered for the introduction of many plant species to the West and his study of Naxi ethnology. North of Lijiang Country you will find the Liulidian Temple and Daobaoji Temple at
Baisha
village, housing 558 mural paintings on 12 walls that date back to the Ming Dynasty in 1385. Buddhism, Taoism and Lamaism are integrated in styles of the Han Chinese, the Tibetan, the Bai and the Naxi people on the murals, a proof of exchange on politics, economy, culture and religion between the mainland and the frontiers of China.Lunch en route at a local Chinese restaurant. Dinner at leisure – on your own schedule.
Day 7 : LIJIANG-SHANGRILA
Enjoy your breakfast at hotel before we embark on a drive. Today, we will take an overland drive of 4 hours, along the Yunnan-Tibet road to Zhongdian. En route, we will take stops to visit the First Bend of the Yangzi River and the Tiger Leaping Gorge. The village of
Stone Drum
stands at the
First Bend of the Yangzi River
. Approaching to Stone Drum offers a dramatic view of the Yangzi's near-180-degree turn, where the wide, swift waters perform a miraculous about-face. For nearly 20 kilometers the river, it first flows south, then north, and then runs parallel to itself. Locals say if it were not for their village standing guard at the bend, China would lose the water of the Yangzi to Southeast Asia.The
Tiger Leaping Gorge
, is the Yangzi's best-known gorge. Wedged tightly between titanic cliffs, the river is so narrow here, as legend tells us, that a hunted tiger made his escape to the other side in a single bound. Here, the Jade Dragon Snow Mountains and the Hiba Snow Mountains lean close to each other and a large volume of torrent moving between them cutting deeper and deeper into the bottom of the gorge. In some places there is a drop of 3,000 meters to the water. At 3,160 meters above sea level,
Shangri-La
(also known as Zhong Jian) lies in a landscape of rolling hills, snow-capped peaks, virgin forests of spruce, pine and meadow dotted with wildflowers and tranquil lakes. The old town, still entirely in local Tibetan style, is to the south of Zhongjian. Today's lunch occurs en route at local Chinese restaurant. The dinner meal is on your own, per local recommendations and/or guide suggestions.
Overnight in Zhongdian, 03 nights
Day 8 : SHANGRI-LA
We will start with breakfast at hotel; then we'll take an excursion to visit the Shudu Lake in the
Pu Da Cuo National Park
. You may walk long the wooden plank way the park to enjoy tranquil scenery of this alpine lake.
Shudu
, (or "where milk gathers" in Tibetan) is one of the biggest plateau lakes in Zhongdian. The Lake is surrounded with deep primeval forests of fir and dragon spruce. The silver birch covering the eastern part of the Lake turns to golden yellow in autumn, providing very photogenic scenes. The natural grassland around the Lake is the best pasture in Zhongdian. At the turn of spring and summer, we may have pastoral scenes of the Lake with herds of sheep and cattle. Then, take a guided stroll in the
Old Town
, and climb up the Guishan Hill to visit the
great prayer wheel
and take a panoramic view of the old town quarter. Lunch en route at a local Chinese restaurant. Dinner will be at your leisure – on your own account, or per local guide recommendations.
Day 9 : SHANGRI-LA
Breakfast at hotel followed by a visit to the Ganden Synganglion Monastery, which was founded in the 17th century during the reign of the Great Fifth Dalai Lama and nicknamed as Lesser Potala Palace by the locals.
Ganden Songzanglin Monastery
is one of the thirteen Tibetan monasteries in the Kangba Region, where Tibet, Yunnan and Sichuan join. Holding about 700 monks and one living Buddha, the monastery is a "must-see" in the region. In the afternoon, drive out to visit the
black pottery workshop at Tibetan village Nixi
. The handmade black earthenware is decorated with broken pieces of white china. With a population of 112 thousand people, the
Tibetan minority
takes up one third of the total in Diqing Tibetan Autonomous Prefecture. They believe in Lamaism, a major branch of Buddhism. During the new year on Tibetan calendar and the horse racing festival on the fifth day of the fifth month on Chinese lunar calendar, there are big gatherings of Tibetans in Zhongdian, Deqin and Weixi celebrating the festivals. Lunch is provided at a local Chinese restaurant. Dinner will feature local Tibetan cuisine (yak meat hot pot) at a local restaurant.
Day 10 : SHANGRI-LA departure
Breakfast at hotel.
Transfer to Shangri-La Airport for your onward flight (flight details to be advised, your own tickets).
REMARKS:
B = Breakfast L = Chinese Lunch D = Chinese Dinner
CA= Air China CZ=China Southern Airline MU=China Eastern Airlines

Low Season – November 1st of 2019 – March 31st of 2020
High Season – April 1st of 2020 – October 31st of 2020
| | | | |
| --- | --- | --- | --- |
| Season | 2 – 3 PAX | 4 – 5 PAX | 6 – 9 PAX |
| Low Season | $2,240.00/per adult & $1,795.00/per child | $2,015.00/per adult & $1,612.00/per child | $1,560.00/per adult & $1,250.00/per child |
| High Season | $2,560.00/per adult & $2,050.00/per child | $2,315.00/per adult & $1,852.00/per child | $1,810.00/per adult & $1,450.00/per child |
| | | | | | | | |
| --- | --- | --- | --- | --- | --- | --- | --- |
| Hotel | Indoor Pool | Outdoor Pool | Gym | Safe Box | Refrigerator | Hair Dryer | Kitchen |
| Holiday Inn Kunming City Centre | √ | | √ | √ | √ | √ | |
| WeiSelect Gu Rong Hotel, Dali | | | | √ | √ | √ | |
| Aoding Courtyard, Shaxi | | | | | √ | √ | |
| Ivy Resort & Hotel, Lijiang | | | | √ | √ | √ | |
| Hilton Garden Inn, Shangri-La | | | | √ | √ | √ | |
Notes:
For different scheduled tour, please contact us for a price quote
A child must be less than 12 years old to receive a discount.
Twin beds in China hotels, about 40 – 50 inches wide, are closer in width to the 54" double size beds in the U.S., and much wider than the 39 inches wide twin beds found in U.S. homes.
If your itinerary states "free time" or "free day", no activities would be planned for you and your English-speaking tour guide and driver would not be present.
Lotus Travel highly recommends clients to purchase travel insurance. The Travel Plus Plan offered by the Travelex Insurance Company has excellent travel benefits and children 15 and under are free of charge when traveling with an adult.
You need to apply for your Chinese visa 3 months before the trip. Please visit our website at http://www.lotustours.net/visas/china.shtml for detailed visa information and contact our visa agent – Apple at apple@lotustours.net for any visa questions
A $500.00 per person non-refundable deposit is due at the time of registration.
Balance is due 60 days before departure.
Lotus Travel Terms and Conditions
Note: Customer Commitment - Each Lotus agent is committed to respond to each email with an acknowledgement of receipt within 24 hours. If you do not receive email acknowledgement within 1 business day, please check your spam box for our agents'response e-mail or send your notice to
iris@lotustours.net
or call 1-800-956-8873.
To review full listing of terms and conditions, refer to:
http://www.lotustours.net/info/terms.shtml