News & Updates
A Rock and a Hard Place
By an anonymous parent author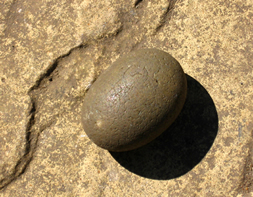 As a parent of two children adopted from China, I have sometimes felt the burden of providing my kids with experiences that are "equal" to each other. There is probably nowhere that this particular penchant for parental fairness becomes so impossibly out of reach as it does when returning with two children for a homeland visit.
A return to an orphanage or to see a foster family is full of emotional hotspots, for parents as well as children. I offer this window into our return visit experience to share lessons learned, insights gained and differences celebrated. In writing this, it is my hope that it may help another family prepare to meet the differing experiences that likely await their children.
I have seen people whose one child may receive literally a firecracker welcome upon returning while another child in the same family receives a cursory and perfunctory, sterile tour of their orphanage. While both of my daughters, at ages five and seven, received warm welcomes from their original communities of care, the disparities were enough to cause some struggle. This is our story.
My two children came from relatively fortunate circumstances, in terms of pre-adoptive history. My oldest daughter came from a small, rural orphanage in a mountainous and remote region of China, where the director takes personal interest in each child. One early example of this was the fact that he gave my daughter a gift on the day of our adoption. It was a small bracelet given to all children adopted from this Social Welfare Institute (SWI), so they might see each other wearing the bracelet in the future, and get connected. He also gave a gift of a traditional minority outfit and told us we were now connected forever as "family." My youngest daughter spent her time in the care of a loving and devoted foster mom. In fact she earned the name "Princess" early on in our family, based on the high expectations she had for love, attention and comfort, similar to the heroine of the story The Princess and the Pea.
Our family had decided a week prior to leaving for our homeland trip that each girl could pick some rocks from our yard and would bring her own "American home rocks" to China. Each daughter would deposit her own selected rocks in her individual hometown as a kind of symbolic connection. Since my girls were five and seven at the time of our trip, and a favorite pastime was picking up rocks, this plan "clicked" for them. Rocks of all sorts make it into our house on a regular basis – whether sparkly, or crystal, or coal-looking, each one is a unique discovery and temporary treasure. We'd planned to take two to three small rocks each from our yard and exchange them for some equally interesting rocks to bring home to America. Little did I know how important this symbolic exchange of rocks would be in helping us sort through the emotional curves of our trip.
My Older Daughter's Warm Welcome


My older daughter spent all her time in the tiny orphanage, in which the director has taken significant effort to keep babies well and alive in often harsh conditions in a mountainous, remote region. The difficult winters of this area often required multiple visits to the clinic. The average annual income there is around $100 dollars per year and the area may one may need a heater even in mid-July. The SWI, which cares for the elderly as well as disabled and orphaned children, is tucked away in a non-descript alley in a small rural town. Every day, caregivers record 24 hours of each baby's activities on a chart in an effort to assure a healthy and strong body. Providing individual attention and spending time with any particular baby was not an option in this small community of care. Efforts to keep babies healthy and alive were the foremost priority for the staff.
My oldest daughter is a sensitive, creative, dynamic personality whose emotional rivers run deep, strong, and quiet. She was intensely excited about this trip and was looking forward to meeting "Mr. Li," her orphanage director. Mr. Li is an open-hearted and involved director. Upon our arrival into the capital city, he met us at the airport, and for a couple of days took time out of his schedule to show us around the city and the historical areas. He bought both of my daughters some ice cream on our city walks, hugged them, allowed himself to be photographed hundreds of times, and was an ultimately genial and wonderful host.
Mr. Li invited us to share a meal at his home on the first night of our visit to the city as well as on the last. His wife cooked a wonderful homemade meal with plenty of dumplings and enough freshly made food to set the standards impossibly high for the five-star hotels and restaurants that were to follow during the course of the trip. Her dumplings became the stuff of legend for the adults on the trip. For the children, they were simply stuffing. Mr. and Mrs. Li would both refill the kids' bowls with more and more dumplings and delightedly watch them eat, then offer them "one more." While the adults were trying to be respectable in their use of chopsticks since there were no spoons or forks in the house, my oldest daughter used chopsticks with ease. This fact was not lost on Mr. Li, who was quite pleased about her expert skill.
Following our feast, we sat down with Mr. Li and learned more about the vague expanse of eleven months prior to my daughter's arrival into our home. We learned that she was a quiet baby during her stay at the orphanage. Mr. Li threw back his head and chuckled as he pointed out the high contrast to what he saw now as my oldest, her younger sister and a four-year old child visiting their home that evening raced through the apartment living room. At that moment it looked like she was hatching some inspired scheme on behalf of her younger sister and the other child. She was the instigator and collaborator for creating much noise; we all appreciated the irony of his description of her as a young baby.
On the final night of our visit, which included a farewell dinner at their home again after we shared some gifts from America and received a gift of chopsticks from the Li's, we learned that the four-year old girl visiting in their apartment was in fact a child from the orphanage. She had recently sought medical treatment in the city and was staying at their apartment for a few days until practicality required her to return to the orphanage. This director's practice was to bring kids into their home when feasible. Mr. and Mrs. Li taught the orphanage children to call them Mama and Baba. He also gave each child at the orphanage his surname. He explained that this was done purposely so that orphanage youngsters would be equipped to handle the dynamics of the school yard and would be prepared when a friend asked about the child's mom and dad. The child could truthfully answer with Mr. and Mrs. Li's names. As we departed the apartment that evening, he expressed his wish that this "family" of international children placed all over the world would someday have the ability to reconnect in meaningful ways.
In the days between our wonderful visits to his home, we learned of Mr. Li's involvement in our daughter's life within hours of her abandonment. He shared details which resolved some discrepancies in her paperwork. He gave us specific insights and incredible information about my daughter's early days – a gripping piece of our family history told to us by this kind gentleman who oversaw her care for most of her first year of life. Mr. Li also brought us to her finding site, where she picked up some rocks, with some moments of quiet reflection for Mom.
My Younger Daughter's More Personal and Emotional Reunion with her Foster Mom
The next stop on our trip was my younger daughter's province and hometown area. There we were able to visit her foster mom on a day trip outside of the main city. My younger daughter had spent all of her time with one devoted foster mommy who, admittedly, did not put the child down except for a few moments each day.
For my younger daughter, it is a rich story with deep and individual love and care. In fact, my daughter spent every day until she met me in the care of her foster mom. In one of life's little ironies, however, the paperwork indicated that she had spent all of her time in the orphanage. We had begun to surmise that the woman we met in the hotel lobby was special, as my daughter cried inconsolably for two days, calling out a word that sounded similar to Aiya. Since our initial meeting had taken place without the benefit of a translator, it took us more than 48 hours until we knew that the woman we met at the hotel lobby was really my daughter's foster mom, and not one of several different nannies who might have cared for her.

Upon arriving at the designated meeting spot in my younger daughter's hometown, I immediately recognized the foster mom from four years earlier. "Mrs. Yu" came walking up to our designated spot holding a mammoth-sized stuffed panda bear, wrapped in cellophane and a ribbon. The gift bear stood just two inches shorter than my five year-old daughter. And, of course, she tore it open with delight! Where Mr. Li had treated both girls with great interest, love and care, my youngest's foster mom was focused only on her; my oldest didn't really matter to her.
Mrs. Yu was thrilled to see my youngest daughter and held her every possible moment she could. When she looked at my daughter it was as though she were intent on never taking her eyes off of her again. It seemed to me that she was hoping to memorize every feature, or capture her essence, and somehow keep her close in memory or in spirit or both. She was captivated with looking at, touching and holding my daughter.
This didn't surprise me at all. Although I hadn't known my daughter had been in foster care until days after she left the care of this woman, I could tell she had been given the gift of being supremely loved, taken care of and doted on. I had carried five years of guilt for not knowing who the foster mom was during the chaotic and hectic "Gotcha Day" moments and for being insensitive to her loss during the time of my joy and elation at meeting my daughter. In fact, I had never been able to watch our "Gotcha Day" video completely, seeing the tears in this woman's eyes. It was this return trip that actually allowed me to assuage my feelings of guilt and provide a measure of "payback" to the foster mom by bringing my daughter back at a young age, so she could see her again, four years after having been forced to say goodbye.
During this visit, we were able to get more information and learn that my daughter was the only child Mrs. Yu had ever fostered. I learned that just like my daughter had done for two days after being separated from her foster mommy, Mrs. Yu stopped eating for several days as well, and spent every waking hour looking for a way to come to America to see her.
Although it seems that this foster mom's only source of income was doing babysitting for neighbor's children, it was apparent that my daughter did not spend a moment in her care with a need that was not immediately and fully responded to. My daughter had lived with a high level of expectation for having any need to be met immediately, upon demand and with single attentive focus on her. She communicated this healthy and high regard for herself and her needs upon meeting me, in a thousand little ways. After several days of intense, painful, deep grieving, her personality began to emerge. I learned that she was playful, precocious and had a well developed sense of humor at 15 months. She was used to being the apple of someone's eye and liked her place there. This continues to be true to this day. She was accustomed to wonderful, loving, attentive care that made her the center of the universe, which should be the birthright of all babies.
Following a lunch with cultural exchanges and a video interview regarding my younger daughter's initial months spent in China, the foster mom returned to her favorite spot of carrying and holding my daughter and whispering sweet somethings in Mandarin to her. We received a precious gift of photos of my daughter's first 15 months of life, and walked to a nearby photo store to have copies made. As a group, we then went on a ride around the city to her finding location. To my daughter, we were just driving to a new area in her hometown that would have a good spot to pick up rocks for her very own "China hometown" rock collection. It was a perfect spot, which provided ample rock picking opportunity. We spent some time there, visiting and absorbing the area, while some curious Chinese men wondered why several foreigners were looking with interest at this non-descript spot. My youngest dropped off her "American rocks " and picked up several interesting new ones from this special spot in China.
Following this, we perused a nearby market and met the owner of a market stall who used to watch my daughter when the foster mom had to take care of errands or business. She fussed over my daughter who, while normally quite shy around strangers, seemed to intuitively know (maybe remember?) these people who were part of her caring community when she was an infant. She was having the time of her life, being held every moment, and being doted on. During the early part of the trip, each of the adults (mom, aunt and uncle) had all been worn out from her pleading requests to "hold me" and "carry me" for the several walking expeditions we had done. Now, her foster mom wouldn't let her touch her feet to the ground. My daughter relished the attention and pampering.
As the time of our departure drew near, the depth of the foster mom's personal price for loving my daughter became clear. It became apparent that she hadn't been accurately told or hadn't anticipated our departure time. She began to cry and hold onto my daughter even tighter. She became emotionally distraught and asked us when exactly we would be returning again. She was inconsolable. It was awkward and painful. To ease the transition, we offered to drive the 1 ½ block walk to her apartment and she and my daughter returned to the bus. She stared at my daughter with huge eyes, red from crying and with a face wet from tears. Our van was silent and serious. Once we arrived there, she insisted that we visit her apartment and stay a bit longer. I, my younger daughter and one of the guides walked the short distance to the apartment and visited for 10 or15 minutes more. My older daughter was content to stay with her aunt and uncle and peruse some nearby shops.
At the apartment, Mrs. Yu showed me, the translator and my daughter the stroller that she had spent time in as a baby. She showed us some of the toys that my daughter had played with. The apartment was simple and had a small kitchenette and a bed in the main room. She was gracious and warm and I was again thankful for this kind woman. I saw her pain and couldn't imagine that I could be that selfless to love this deeply, knowing the pain of saying goodbye was inevitable. We finally stated that it was time for us to depart. She walked back with us and we talked of keeping our connection with her going, now that we had each others' direct contact information.
Mrs. Yu stood at the van window and spread out her palm to the window, and with tears streaming down her face, studied the face of my daughter, who was seated in my lap. I felt as if I was in the midst of two colliding worlds and wanted to protect my daughter, but at the same time, understood that gift of care and love that was being openly shown and shared. I cried big, silent tears as I put my daughter's hand to the window, covered by my larger hand. Traffic seemed to stand still forever, as the three of us sat there enmeshed together, separated by a thin pane of glass. As the van began to pull into traffic she kept her hand to the van window and ran alongside the van in the bicycle traffic lane. She kept her hand on the glass for the 100 yards to the first stoplight. As we paused and then pulled away from this stoplight, the emotions inside the van were palpable and raw, as we all faced the open difficulty and sacrifice this woman made in giving such love and care for my daughter. I looked back as the van pulled away and saw her standing there in the street, with tears on her face, capturing the last glimpse. I wondered if I could ever feel the enormity of the pain that she felt when she had let go of my daughter that day four years earlier. Again, I found myself humbled and in awe of her gift, made at such a significant personal price, and of her sacrifice.
Processing the Contrast
Later on that night, in the quiet of the hotel room, my older daughter was processing the emotions of the day. She noted the intense personal love and care of the foster mom towards my younger daughter. She compared her experience and realized that no one had displayed a similar personal, emotional connection to her. I didn't need to explain to her the many differences between institutional care and a family setting; she was feeling and sensing the distinction.
The large panda bear gift and the open display of love and affection given to my younger daughter made my older daughter's positive experience with Mr. Li pale in comparison. She shouted at me with anger in the hotel room, "I didn't get a present!!!" As she cried it seemed she was also perturbed by the fact that Mr. Li had been equally enthralled with her and her little sister. In that moment, his kind and compassionate affection towards all of us seemed like betrayal to her. Where was her personal gift of connection, her huge panda bear? And where were Mr. Li's tears of sadness at saying goodbye to her? She compared these things and labeled it "unfair."


I took a deep breath and prayed for wisdom. It felt like one of those pivotal parenting moments that you only get to have one "take" on. What could words do to help her? I had a sense that the soft clay of my daughter's emotions would seal an impression on how she processed this dichotomy and perceived "unfairness" in her young life. In this moment that felt like a hard place to be. I reached for the rocks we had selected from each finding spot. As we studied the rocks, I asked them about the unique features of each rock they had picked. I asked them how interesting it would be if each rocks looked exactly the same. What if there were not charcoal gray ones with little silver streaks? Or what if we weren't able to find any with the glittery, crystal look? How about the smooth, gray stones? Or the brown ones?
I asked, "If each rock looked the same, why would we ever look to discover new ones? And why would you even want to have a collection of them?" I shared my personal faith that the Creator made each girl in my family with a unique design as well as a specific life purpose. We can't have the same experiences, or be the same person if we are each designed to be someone unique and accomplish something different. If one stone was an exact duplicate of another rock, why would we ever stoop down to pick it up and discover it?
That discussion, along with my older daughter's tears, seemed to assuage her feelings and as we went to sleep that evening in the hotel room, I reflected on my inspiration to pick rock as a symbolic vehicle for our journey. I felt like the connections we made on this trip were meant to be. Why had I chosen rocks to symbolically connect my family's two continents? It certainly had been a pivotal symbol to help us all on this journey in my girls' homeland. It provided the opportunity for us as a family to experience in a practical way the truth that we each have a unique life path. We all slept like babies as we settled into sleep that night.
More Processing
Months after the frenetic schedule of travel was done and life was once again in a comfortable routine, I find both of my daughters are still putting together the pieces of their China experiences. My youngest, who is an incessant conversationalist, talks often now of her foster mom and has recently wondered aloud, "Where is my foster dad?" (There isn't one). In her own style, with an exceptionally high need for order, she seems to be placing people in their respective boxes inside her mind. Initially, her experience of meeting her foster mom, who clearly loved her dearly, seemed to put the "who is family" question a bit up for grabs. We have now defined "foster mom" as "mom for a short time" or "temporary." I've always described myself as her "forever mom," and I think it has clicked as she has found space in her mind for foster mom and forever mom. Most days she is good with me in the "forever mom" category. Then, on other days, I fail to meet her expectations or desires: "No, dear, we can't go out to eat pizza for lunch every day." She now has a person to compare me to when "Mom" doesn't perform to her desired standard.
My oldest daughter, with whom we are working to address neurological deficits (likely as a result of institutional care) is grasping that her early life was something less than perfect. She asks about this now. As we work on addressing her neurological issues, which frustrate her, she knows that when a baby lives in a group home, the baby does not get all the hugs and kisses that babies need. She accepts that at face value, although more questions seem to bubble beneath the surface. Her discussion of China often centers on food, a topic near and dear to her heart. She talks proudly now of how many dumplings Mrs.and Mr. Li tried to get her to eat while visiting their home. Even when dining on scrambled eggs or other typical American food, she will reach into our buffet hutch and pull out THE chopsticks. She comments on her own ability to skillfully use them and announces that she is the best in our house with the sticks. And then she will smile and talk of the dumplings at Mr. Li's house. She also announces to visiting guests that "these chopsticks were given to our family by Mr. Li" and expresses great pride in that fact.
Both of my daughters received a warm welcome from their first communities of care, and for that they are very fortunate. Yet the differences caused some pain, eased a bit by having our rocks – tangible symbols of the girls' connection to China – and using those rocks as an entry point for processing their experiences. As my children mature, I suspect that they will continue to reflect on the ways in which their visits with their early care providers were both deeply meaningful in unique ways. As they count their rocks from China, I think they will also count their individual experiences as unique and rich.