Heritage Trip Preparation
FCV Resources
Vietnam Articles
Combined Heritage Trip: Vietnam and China
This trip is perfect for families with roots in China and Vietnam This combined heritage tour is perfectly tailor-made for your family.
Climb the Great Wall, hold the adorable Pandas, watch Vietnamese traditional art of water puppet show, get close to the life of fisherman and peasants and relax yourself on the beach. Of course, we will plan a customized visit to your child's orphange and hometown areas. You can experience it all just in one tour and have a wonderful trip. Call 1-800-956-8873 or email Iris Culp at iris@lotustours.net today and plan your family's heritage trip.
Tour Overview
Trip Duration:17 days/16 nights
Beijing, Chengdu, Guangzhou, Hanoi, Halong, Ho Chi Minh City, Vinh Long, Binh Hoa Phuoc Islet
Itinerary
Day 1 : U.S./Beijing
Leave U.S. for Beijing today.
Day 2: Beijing
Arrive at the Beijing International Airport. Your private English-speaking guide and driver will take you to your hotel. Soak in your child's birth country while you adjust to your new time zone and surroundings.
Day 3: Beijing
Begin
your day with a tour at the Great Wall Mutianyu. Constructed more than 2,000 years ago by China's first emperor, the ancient wall is 6,350 km or about 4,000 miles in length. Visit the Peking Duck Restaurant and see how the professional chef roasts Peking duck - Beijing's most famous dish, is traditionally served with Mandarin pancakes, and green onions for brushing on the hoisin sauce.
Enjoy your Peking Duck dinner there.
Day 4: Beijing
Begin your day with a tour at the Forbidden City. Listed as a world heritage site in 1987, the Forbidden City contains the largest group of intact palace structures in the world. The palace is 720,000 square meters in size and contains 9,999 rooms, numerous pavilions, gardens and courtyards. Then visit the Tiananmen Square. Noted as the largest city square in the world, the square was initially designed for political rallies and important gala events. Today the square is flanked by the Forbidden City in the north, the Great Hall of the People in the west, Mao TseTung's Mausoleum in the south and the Museum of Chinese Revolution and the Museum of Chinese History in the east. After a bowl of fresh hot noodles for lunch, you will visit the major 2008 Olympic Venues including the National Stadiums – "Bird's Nest" and the National Aquatics Center – "Watercube" in the afternoon.
Day 5: Beijing/Chengdu
This morning explore the fascinating Hutong neighborhoods. Beijing's oldest Hutongs (alleys) were constructed during the Yuan, Ming and Qing dynasties. Your tour will take you through some of the best-preserved Hutong neighborhoods that represented the history, culture and lifestyle of old Beijing. After a special homemade lunch at a local family residence in the Hutong Lane area, your family can learn to construct your own kites under professional instruction. In the afternoon, visit China's largest temple and altar—the Temple of Heaven, which is often depicted as the most recognizable symbol of China. Then relax and fly your handmade kites with the others at the Temple of Heaven.Late this afternoon,your guide and driver will transfer you to Beijing Airport for your flight to Chengdu.
Beijing/Chengdu CA4120 (8:00P/10:45P) (Your tour guide has tickets)
Meet your local English-speaking tour guide and driver at the Chengdu Airport Exit for transfer to the hotel.
Day 6: Chengdu
Early in the morning, embark on an extraordinary journey to the Panda Breeding Research Base. A professional panda caregiver will give you a brief insight into panda research findings.
Have Chinese hot pot for your dinner.
Day 7: Chengdu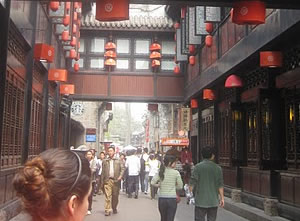 Begin your tour at People's Park with tea house & garden where is full of vegetation and shade, it is a great place to visit with friends or family. You'll be surprised to see so many people exercising together to traditional Chinese music. People dance, do tai chi, play badminton or sing Chinese Opera songs. The Teahouse is as relaxing and shady a setting as any place in Chengdu.
After included lunch, visit Jinli Street. Jinli Street is part of the old city of Chengdu, it features hotels and small stores in and old-fashioned style.
Enjoy the face changing show tonight.
Day 8 :Chengdu /Province
Depart Chengdu and travel to the capital city of the designated province for an orphanage visit. Lotus guides will sensitively and carefully assist your family as you embark on this most meaningful portion of your return trip. On this initial day of the city visit, one can spend time strolling the area and absorbing a sense of the city and locale.
Day 9: Province
Your orphanage visitation typically includes a lunch meeting with the orphanage director and staff. If your family wishes to be in touch with the foster family, Lotus can also arrange a time for you to reunite if contact information is available. After lunch, you may explore your child's finding site. Record the day's events in your journal or just relax with your family this evening.
Day 10: Province/Guangzhou
This morning take some final glimpses around your child's province to capture your special memories. After breakfast, depart for Guangzhou.
This afternoon, tour around Shamian Island: stop at the medical clinic where adoption medical exams are conducted and visit the photo shop where your child's visa photo was taken.
Day 11: Guangzhou/Hanoi
After breakfast, your guide will then escort you to a local park-Yuexiu Park where you can linger and relax while enjoying a story-time of traditional Chinese folktales to deepen your understanding of the rich cultural heritage of your child.
This late afternoon, your local guide and driver will transfer you to Guangzhou airport for your evening flight to Hanoi.
Guangzhou/Hanoi CZ4701 (9:05P/10:00P) (Your local guide has tickets)
Meet your local English-speaking tour guide and driver at the Hanoi Airport for transfer to the hotel.
Day 12: Hanoi
Today, you will rise early and enjoy a morning walk to Hoan Kiem Lake "Lake of the Restored Sword" and experience early morning in Hanoi. According to the legend, gods provided Emperor Le Thai To a magical sword to defeat the Ming Dynasty Chinese invaders. After the victory the emperor was boating on the lake when a giant tortoise reared up and took the sword, returning it to its rightful owners. Today, the lake is where local residents do their morning exercise. You can join them as they do Tai Chi. In the afternoon you can enjoy a city tour of Hanoi in which you will visit Ngoc Son and Quan Thanh Temples as well as the old quarter of Hanoi and the Dong Xuan market. This evening you will be treated to a water puppet show, a unique Vietnamese traditional art which dates back to the 10th century. Water puppetry is a remarkable art form combining traditional music, fireworks and elaborate puppets floating gracefully on the water. The stories depict Vietnamese legends, peasant life and local festivals.
Day 13: Hanoi – Halong
This morning, depart Hanoi for a trip to Halong with a scenic drive through the Red River delta.
Enjoy spectacular views of the Vietnamese countryside en route.
Upon arrival at Tuan Chau Marina Pier, you'll be tendered out to the Gray Line Halong Bay cruise ship where you'll be greeted with a welcome drink and check-in to your suite. As we depart to our first stop, a fresh seafood lunch will be served onboard.
Upon arrival at Vung Vieng fishing village, it's up to you to decide to explore the side streets in a relaxing bamboo rowboat where your guides do the work or make your own way in a sea kayak. We'll explore a neighborhood of floating structures home to 65 families, a floating school and a floating information centre. You'll leave with memories to last a lifetime but to the locals, it's just another day in the life!
Continuing our cruise, we arrive at iconic Drum Cave, the perfect place to enjoy swimming alongside the ship or sunbathing on deck. A spring roll cooking class will be held on the sun deck for the gastronomically inclined. Embraced by 360 degrees of jaw-dropping views, make sure you have your camera ready. As the sun dips lower in the sky, prepare to see the sky lit ablaze like nowhere else on the planet. As the landscape melts from orange to red to blue, the stars come out to play and the party begins!
Dine on deck, beneath the magical night sky of Halong Bay, enjoying a spread of fresh grilled seafood and traditional Vietnamese dishes. After dinner, take part in festivities including karaoke singing, squid fishing, movies, card games, music and other fun activities. When you've had enough, retire to your suite to relax and enjoy moonlit scenes of Halong Bay.
Day 14: Halong/Hanoi/Province
Head to the sun deck for the unreal experience of sunrise at sea. Allow your guide to lead you through a gentle Tai Chi class. Relaxing stretches and exercises will fill you with energy for the day. Even late risers should consider going against the flow to have this experience, if only this once. A light breakfast will be served onboard including coffee, tea and baked goods.
Arriving at our first stop, a tender will take you to visit amazing Sung Sot Cave, discovered by the French in 1901 and open to the public since 1936. This stunning site is surely one of the most impressive geological treasures of Halong Bay.
As we continue our cruise, take a moment to reflect and absorb the memories of the past two days. Enjoy magnificent scenery and a farewell buffet brunch on our cruise back to the pier. Disembark at Tuan Chau Marina, enjoying the beautiful countryside once again as you travel back to Hanoi.
Transfer to Noi Bai airport for a late afternoon flight to your child's province.
You will be greeted warmly by a local guide at the airport and be escorted to your hotel to settle in and relax.
Day 15: Province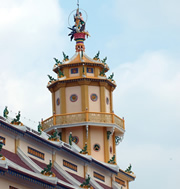 Today, a Lotus guide will sensitively and carefully assist your family with your arranged visit to the orphanage, foster care family or birth family as you've requested. This day is customized to your family's wishes and specifications. Explore the birthplace of your child this afternoon.
Day 16: Province/Ho Chi Minh City
In the morning, you will have free to explore, pack and relax.Depart for Ho Chi Minh City.
Upon arrival, meet your English-speaking tour guide and driver and you will be escorted to your hotel. You will be free until your guide and driver pick you up for the dinner excursion on the boat along Ho Chi Minh City River.
Day 17: Mekong delta tour
Some 136km from Ho Chi Minh City, Vinh Long occupies the heart of the Mekong Delta. After a two-hour drive, a boat takes you to the Cai Be floating market with sellers and buyers bargaining and exchanging goods from their boats and then to Binh Hoa Phuoc Islet where the maze of shady creeks will surely fascinate you. You will have a chance to linger amidst local peasants, learn the secrets of their bonsai gardening and take a look at local products. A typical Vietnamese lunch at a local home will be arranged.
Transfer back to Ho Chi Minh City.

Day 18: Ho Chi Minh City/US
After breakfast, please meet your guide and driver and transfer to Tan San Nhat International Airport for the departure flight back home. The guide will help you to check in at the airport for your trip across the International dateline. You can catch up
on your journal writing, recounting memories of your Vietnam explorations and excursions before you arrive back in the US.
TOUR PRICE (Price per person in USD)
Travel Time

2-5 Persons

6-9 Persons

Hotel Single
Supplement

Deluxe class

May – Sept,2023

$3480

$2,750

$840

Oct -Dec 2023

$3550

$2,799

$880
Notes: Package price is excluding : Surcharge and compulsory dinner at Christmas and New Year time
Note: child price is 80% of adult price.
Accommodations
:
Hotel

Indoor
Swimming Pool

outdoor
Swimming Pool

Gym

Safe Box

Refrigerator

Hair Dryer

Kitchen

Beijing Peace Hotel

√

√

√

√

√

Minshan Lhasa Grand Hotel

√

√

√

√

Guangzhou Marriott China Hotel

√

√

√

√

Hanoi Nikko Hotel

√

√

√

√

√

Halong Indochina Sails Hotel

√

√

√

Ho Chi Minh Majestic Hotel

√

√

√

√

√
Inclusions
Airfare of Beijing/Chengdu;
Airport/hotel/airport (or train station) transfer as listed in itinerary.
All listed sightseeing and tour programs with private English-speaking tour guide and private van or bus with driver.
Puppet show ticket & Cyclo fee & Mineral water: 2 bottles per person per day
Exclusions
U.S./Beijing Guangzhou/Hanoi and Ho Chi Minh/U.S. international airfare
Domestic air fare in Vietnam
Some meals.
Provincial trip of orphanage visit on Day 8-10 in China and 14-16 in Vietnam; Chengdu/province/Guangzhou and Hanoi/province/Ho Chi Minh City transportation.
Tipping to tour guide and driver.
Chinese visa.& Vietnamese visa(landing visa)
Expenses of a personal nature.
Tipping to tour guide and driver
Terms and Conditions:
Deposit: A $500.00 per person non-refundable deposit is due at the time of registration
Balance: Balance is due 60 days before departure
Terms & Conditions: Our terms and conditions are listed on "Lotus Travel Terms and Conditions"
Important Remarks
Discounted international airfare could be arranged through Lotus Travel with extra cost. You need to contact the airlines directly if you wished to use your frequent flyer mileage to redeem free international air tickets

Adoption Provincial trip on Day 08-10 &14-16 and the domestic airfare of Chengdu/province/Guangzhou and Hanoi/province/Ho Chi Minh City could be arranged with extra cost
All prices are quoted per person based on two people sharing a room (double occupancy). Single supplement applies for single travelers